TRAILING CURSORS
PAGE TWO
Terms of Usage
You MUST provide a credit link on the same page
where any of my trailing cursors are used.
You may NOT give away my graphics freely or for profit.
You may NOT LINK DIRECTLY to my graphics on my server.
You may NOT use my graphics on any commerical site or for any commerical
purpose or service you provide.
You may NOT alter my graphics.
DO YOU AGREE?
Yes
No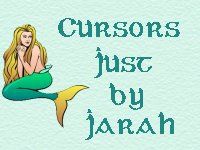 Please link back to
http://graphicsguru.50megs.com/index.html
© 2000-2002
JCW Designs